Safe, robust and reliable communications for potentially hazardous environments
Oil and gas installations require robust, resilient and reliable communication systems to support efficient day-to-day operations and to coordinate a swift and effective response to major incidents. The nature of the industry necessitates a strong safety culture to protect both the workforce and the environment.
Oil and gas companies need to instigate stringent safety regimes to protect their infrastructure, to ensure the safety of their workforce, and to minimise the damage to the surrounding environment in the event of a spillage or explosion whether that happens in a remote, isolated region or near a large centre of population.
Hytera Professional Communications Solution for Oil & Gas Exploration
Free White Paper
A Deep Insight into the Development Path and Future Opportunities of Oil & Gas Communications Network.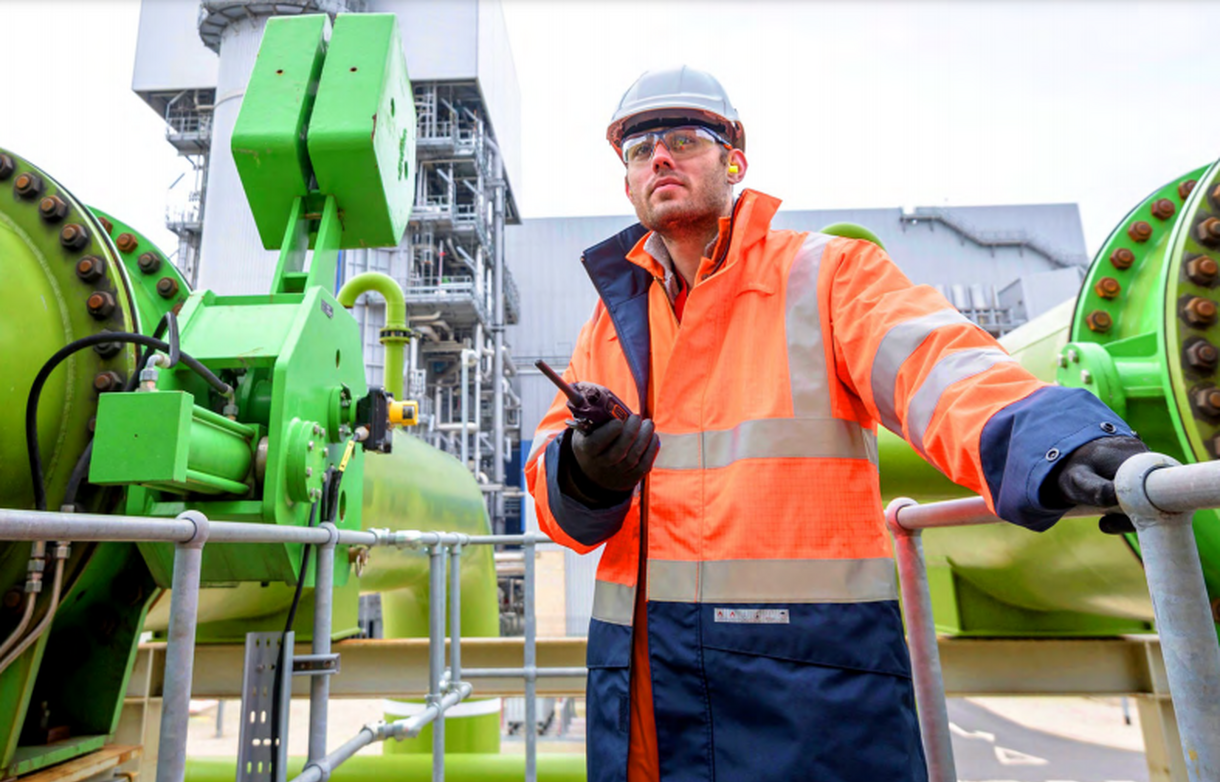 Improved Efficiency
Private radio systems enable managers and supervisors to use group calling and segregated call groups based on job roles or tasks for enhanced efficiency, productivity and safety, and cost reduction.
Direct Mode Operations
Radios enable oil and gas teams to directly communicate radio-to-radio bypassing the network. DMO is often used at remote installations if teams are working beyond the main coverage area.
Improved Audio
Personnel work in noisy environments, but they must be able to hear instructions over the radio. Hytera noise cancelling technology gets rid of background sounds to provide much clearer audio.
SCADA and IoT
DMR networks can be used to transmit SCADA information using remote telemetry or radio units (RTUs/RRUs), which monitor and remotely control assets like drills, pipelines, storage tanks, and processing plants.
Bodycams
Hytera bodycams can be deployed to record incidents or faults. If Wi-Fi or broadband networks are available, it is possible to live stream video to supervisors or experts who can advise remotely on how to fix faults or carry out installation or maintenance work on utility assets.
Better Connectivity
Hytera's private digital two-way radio solutions provide highly reliable, always available communications for oil and gas facilities in even the remotest locations on land and sea. Two-way radio can be integrated with other communication solutions such as cellular, fixed telephone, video and IoT sensor data.
Reliable and Instant Coverage
Hytera's DMR solutions enhance worker efficiency and safety. Utility staff could keep in touch with the command center anywhere, and react immediately to actions and orders. Wide area signal coverage guarantees reliable communication even in harsh conditions.
Group Calling
Radios provide group calls, which allows supervisors to communicate with colleagues simultaneously, saving time, increasing efficiency and providing a better service for customers.
Converged Communications
DMR networks can be combined into a converged communications system bringing together mission critical voice, CCTV, vehicle and body worn camera feeds, IoT sensor data, artificial intelligence and data analytics, PABX/PSTN telephony networks and broadband LTE cellular networks. The Hytera PMR-LTE Convergence solution interconnects PMR, Wi-Fi and LTE onto a single unified platform.
Robust Devices
Hytera offers military grade PMR and PoC terminals capable of operating in harsh environments. Devices can withstand drops, shocks, vibration, extreme temperatures, dust, dirt and water ingress. In addition, Hytera also offers its portable e-Pack100 wireless ad-hoc repeater for temporary ad hoc networks, Push-to-Talk over Cellular devices and a range of body worn cameras that double as remote speaker microphones.
Enhanced Worker Safety
The oil and gas industry requires a very strong safety culture under even the most benign circumstances, but in many facilities the operational, environmental and regulatory risk is that much higher. Companies need to instigate even more rigorous safety regimes to protect their infrastructure and to ensure the safety of their workers.
Emergency button
Radios come with an emergency 'panic' button, which can be programmed to send an alarm to supervisors and to colleagues' radios, along with the person's ID.
Man Down and Lone Worker
The Man Down alarm is triggered if a user has fallen over and the radio is horizontal. The Lone Worker alarm is sent if the radio is inactive beyond a set time.
GPS location services
GPS-enabled radios allow commanders to locate and track users and can be used to pinpoint a user who has issued the alarm or who is in a man down situation.
Intrinsically safe operations
Hytera offers world-leading 'intrinsically safe', ATEX/IECEx certified hand portable terminals and accessories enabling firefighters to communicate safely in potentially explosive atmospheres.
Oil & Gas Enquiry Form
Thank you for submitting the form, one of our team of experts will be in contact with you shortly.