Reliable two-way radio communications are vital for firefighters operating in hazardous environments. Two-way radios are robust, rugged and easy-to-use with clear audio and a long battery life. Hytera solutions ensure firefighters can collaborate more effectively and carry out their tasks more safely.
Better Efficiency
Responding effectively to emergency incidents requires teamwork and efficient coordination. The instant, group calling services provided by two-way radios means firefighters can easily receive and respond to calls from dispatchers, the fireground commander and each other to ensure a better collaborative, coordinated response.
Direct mode operations
Two-way radios enable users to communicate directly radio-to-radio bypassing the main network. Direct mode is normal operating procedure on the spot, but it is also very useful in tall buildings, tunnels, underground areas and when operating beyond main network coverage in more remote areas.
Group calling
Two-way radios and PoC devices support individual, group, emergency and broadcast calling. Group calling is key as it allows many firefighters to hear orders to communicate with colleagues simultaneously, saving time, increasing efficiency and potentially saving lives.

Quick Deployment and Flexible Networking
Small in size and light in weight, the E-Pack 100 products are easy to move and transport. With WANET technology, E-Pack 100 enables quick and flexible network establishment and timely react to emergent issues. E-Pack100 adopts peer-to-peer Ad-Hoc networking design. Any nodes can join or leave the network at any time, enabling flexible networking and dynamic deployment topology.
Better coordination
Staff can immediately reach each other anytime, anywhere to ensure work efficiency
Enhanced Worker Safety
Radios do not just provide highly efficient communications, they also double up as an extremely effective safety device as well. The radio is the firefighter's lifeline if they get into trouble and can feature several potentially life saving applications in addition to emergency voice calling.
Tough Portables for Tough Environments
End-users require radios capable of operating in extreme temperatures and in dirty, dusty and wet conditions. Hytera radios meet MIL-STD-810G for shock, drop and vibration resistance and have high IP ratings against dust and moisture penetration.
Hands Free Wireless Operation
Integrated Bluetooth technology enables wireless connectivity to audio devices to improve user experience and to allow firefighters to communicate while keeping their hands free.
Ergonomic Design
Hytera radios feature large PTT and emergency buttons and easy to operate channel switching and volume knobs allowing firefighters to operate their radios even when wearing gloves
Clearer Audio
Firefighters often have to work in noisy, confusing environments and they need to be able to hear instructions over the radio. Hytera noise cancelling technology gets rid of background sounds to provide much clearer audio.
Improved Connectivity
Private two-way radio networks provide better and more reliable connectivity as they are designed to provide the necessary capacity and RF coverage where it is needed with high levels of redundancy to ensure network availability and security.
Emergency Button
Radios come with an emergency 'panic' button usually sited on top of the device. It can be programmed to send an alarm to the command centre and/or to other radios. The identity of the person issuing the alarm is shown to devices with a display.
Man Down and Lone Worker
The Man Down alarm will send an alert if the radio has been tilted at a certain angle. If the user has fallen over, is unconscious or injured and the radio is horizontal, the alarm will be triggered after a warning is issued to the user. The Lone Worker feature has a timer in the radio measuring inactivity. If the pre-programmed time is exceeded, a warning is issued, and if there is no response, the alarm is triggered.
GPS Location Services
GPS enabled radios allow commanders and dispatchers to locate and track users and can be used to pinpoint a user who has issued the alarm or who is in a man down situation. GPS can be used to set up geo-fenced areas. If a user leaves or enters a geo-fenced area, an alarm is triggered.
Intrinsically Safe Operations
Hytera offers world-leading 'intrinsically safe', ATEX/IECEx certified hand portable terminals and accessories enabling users to communicate safely in potentially explosive atmospheres where hazardous liquids, dusts and gases may be present.
Hytera Emergency Ad-Hoc Network Solution
Hytera emergency ad-hoc network solution provides a portable, reliable and secure communication network without other infrastructure, helping commanders to take full control of the emergency situation in a timely manner which improves work efficiency.
Free White Paper
The firefighting profession involves dealing with some of the most difficult and dangerous conditions imaginable, making it one of the most challenging and dangerous professions in the world for protecting people from life-threatening situations. Similar to many other industries, as we move into an increasingly hybrid network environment, we face many challenges.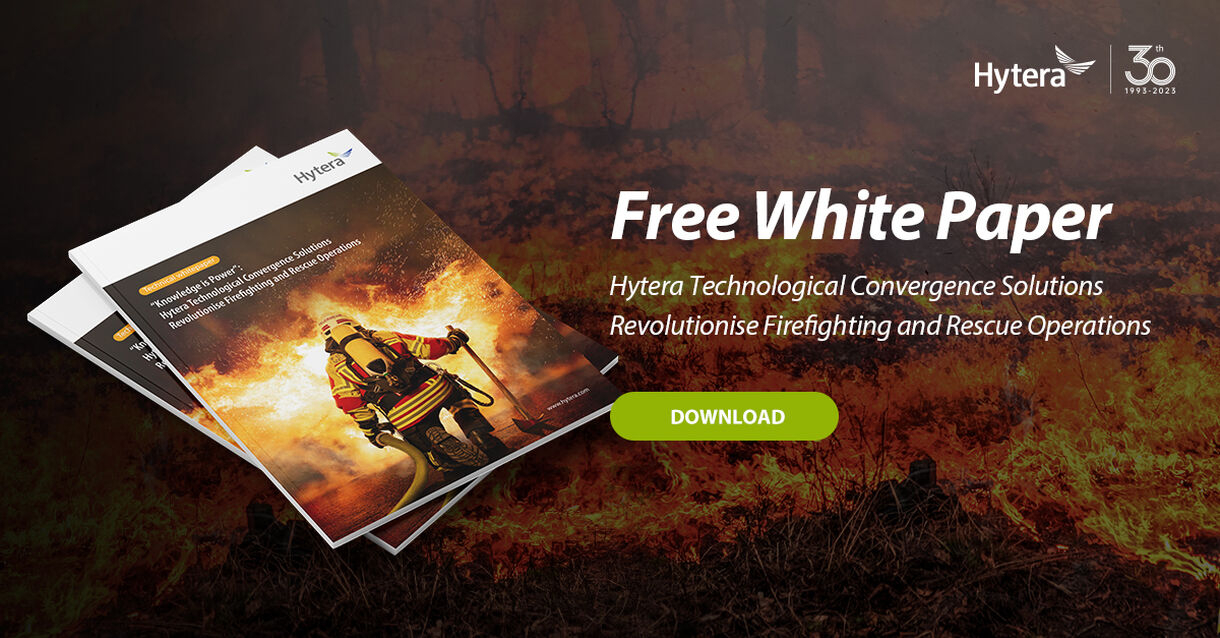 Fire and Rescue News and Case Studies
Fire & Rescue Enquiry Form
Thank you for submitting the form, one of our team of experts will be in contact with you shortly.